Thames & Kosmos Exit the Game Bundle of 3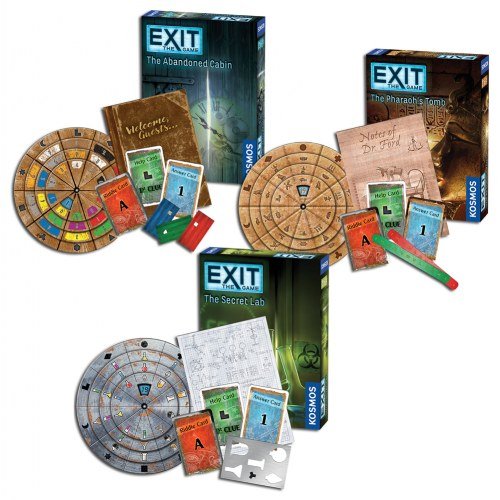 (As an Amazon Associate I earn from qualifying purchases)
This kit of 3 games is perfect if you are having a theme party or going on holiday and need some fun. The games can only be played once as you will need to markup, fold, and tear the materials.
Each game has a different Scenario.
THE SECRET LAB: You and your friends are volunteers for a medical study, you report to a lab as instructed. However, when you arrive, you find yourself all alone! There is rising vapor from a tube that makes you dizzy. You discover a notebook and an odd disk. Can you find your way out?
THE ABANDONED CABIN: Your car has broken down and you are in search of shelter for the night. You come across an abandoned cabin near the woods. When you wake the next morning, you find the door is locked! There are iron bars on the windows and you are trapped! All you can find are an old notebook and a strange disc.
THE PHARAOH'S TOMB: On your vacation to Egypt your excursion to the Valley of the Kings is the highlight of your trip. As you crawl through the narrow passageways, you lose the rest of your tour group. As you enter a creepy burial chamber the massive stone door closes behind you and you are trapped! On the floor lie only a dusty notebook and an ancient disk.
Amazon and the Amazon logo are trademarks of Amazon.com, Inc, or its affiliates.