Unlock! The Island of Doctor Goorse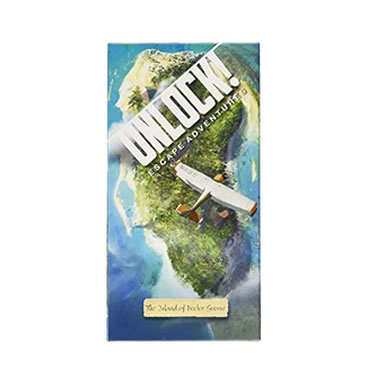 (As an Amazon Associate I earn from qualifying purchases)
Inspired by escape rooms, Unlock is a cooperative card game
Using only cards and a companion app that can provide clues, check codes, monitor time remaining you can embark on great adventures.
You and your team have crash-landed on the island of an eccentric antiques collector. Separated in the crash two to siz players are forced to escape from two separate starting points. The twists and turns of this challenging adventure will test even the most talented escape artists. With your lines of communication cut, can you and your teammates find a way off the island?
An included ten-card tutorial allows you to learn how to play without reading the game rules.
Unlock requires a free application to play. It can downloaded from the App Store or Google Play. Game play does not require an internet connection.
This game is suitable for anyone of 10 years and up. Suitable for 1 to 6 players
Components: Rulebook, 10 card tutorial, 60 card scenario
Amazon and the Amazon logo are trademarks of Amazon.com, Inc, or its affiliates.